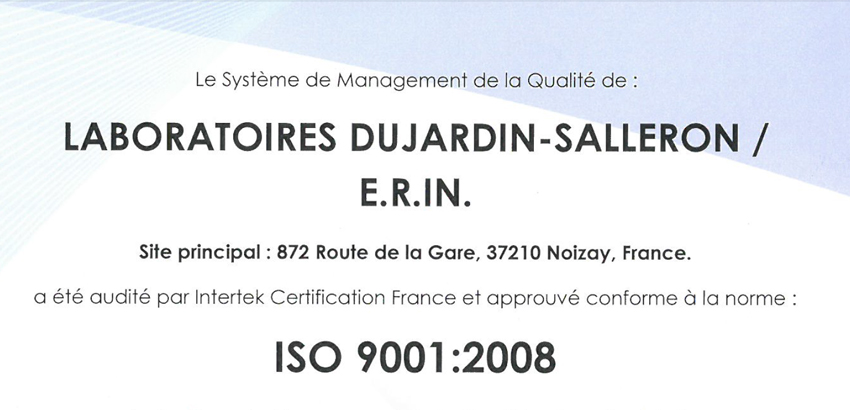 Renewal of our certification ISO9001 : 2008

17 / 02 / 2016

A commitment to quality

An audit was recently conducted in Laboratoires Dujardin-Salleron for the renewal of our ISO9001:2008 certification, dedicated to quality management. We successfully took the test and obtained the renewal.
What is it for?
For several years, Laboratoires Dujardin-Salleron implemented a management system for quality that put the client in the center of the attention in the company.
The philosophy of this norm is mainly based on the formalization of the company operating practices. It involves a precise identification of the processes, the management of non-compliance, and the clients' satisfaction control.
In particular, the ISO9001 certification of quality management guaranties an effective organization inside the company. It proves that a continuous improvement is sought by the company's departments. This commitment directly benefits to clients, as it creates value for them and it enables to offer products and solutions that meet their expectations.
There are many advantages for the company. Internally first, where the continuous improvement enables to optimize its operations, to homogenize its practices, to develop the workers' skills, to reduce costs, to anticipate the risks. As a result, the company develops a capacity for adaptation and an efficiency that are indispensable to face competitive challenges, nationally and internationally.
But also for sales partners: the ISO9001 certification reassures the company's contacts (clients, prospects, suppliers) thanks to clearly identified processes. From creation to selection of products and services, which have to meet the market requirements, to clients' satisfaction control, the customers' comprehension is essential. With the valorization of its commitment to quality, the company establishes a climate of confidence between the parts of its business relationships.
At last, but not least, the ISO9001 certification has a worldwide recognition and open the doors of new markets to the company.
Download our certificate