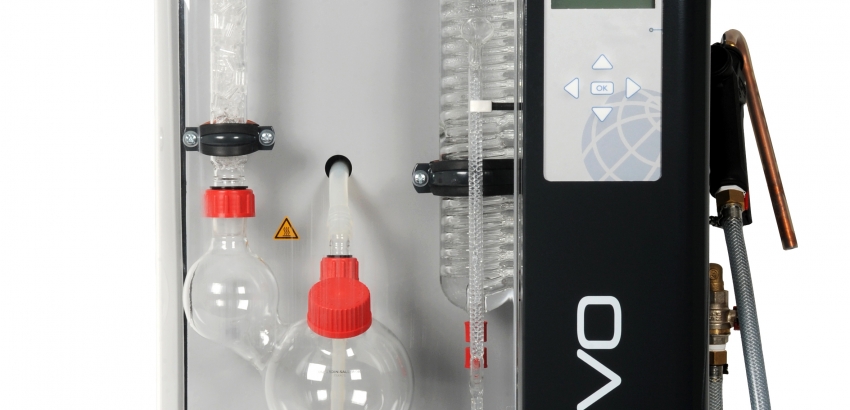 DE EVO : a distiller for oenology and spirits analysis

18 / 02 / 2016

Automatic distiller-extractor with steam extraction

Developed in our R&D department, already tested and validated by many oenological laboratories, DE EVO is a fast and efficient equipment to distillate alcohol, extract volatile acids and sorbic acid, from any kind of sample.
The fast implementation and reliable results of the DE Evo makes it advisable for laboratories specialized in wine analysis, spirits, fermented beverages, fruit juices and many other agriculture and food industry products (tomato sauces, vinegars, etc.). Complying with European regulations (regulation EEC n°2676/90 and O.J. L272 of 03/10/90) and with the O.I.V. standards described in the Compendium of International Methods of Analysis of Wine and Musts, it allows to run distillations of wines and beverages which contain until 40% Vol. alcohol, and from 40 to 80% Vol. after dilution of the sample, extractions of volatile acids, and the extraction of sorbic acid.
The main advantages of this equipment are :
- the selection of the programme and the volume to distillate/extract on a digital screen
- the end of the distillation determined by a weighing system without precalibration, thanks to a precision electronic scale
- the automatic stop of the pump supplying water to the steam generator and of the circulating cooling system
- a steam generator equipped with powerful heating system (2800W)
- a bubbler with heating rings for an effi cient steam extraction
- high dimension glass parts (rectifying and cooling columns with high effi ciency)
- a short work time : 5 to 6 min by operation
Safety parts makes the analysis and the user safer (protective door made of plexiglas, alarm signal in case the temperature of the water in the cooling system is too high.
The equipment is also easy to maintain and clean, thanks to its cleaning gun, an easy evacuation of the samples (even if not liquid) and an easy access to the parts of the device.
Delivered with accessories, it will make possible for the lab which set it up to run easily and quickly all extractions to measure alcohol, volatile acidity or sorbic acid.
We invite you to
contact us
for any information about this instrument.