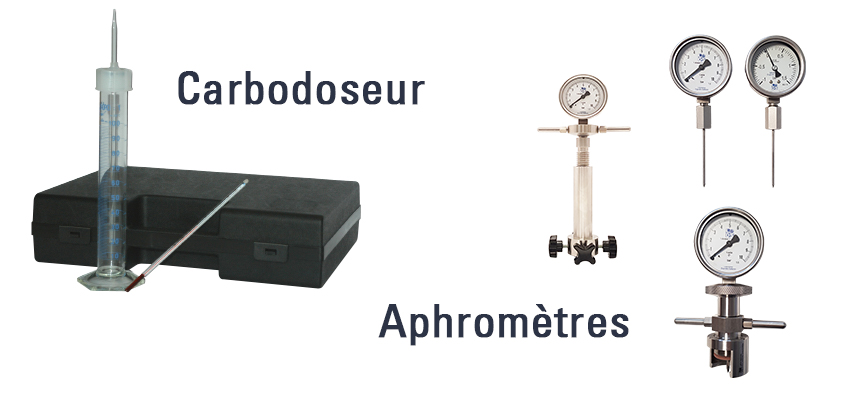 MEASURING INSTRUMENTS : DISSOLVED CO2 & PRESSURE

04 / 05 / 2020

All wines, still and sparkling, contain CO2 (carbonic gas). In particular, CO2 plays an important part in still wine tasting. Vinification must take into account this parameter to assure that the CO2 content during bottling is adjusted to the wine profile.

PDF Version
MEASURING INSTRUMENTS: DISSOLVED CO2
The determination of dissolved CO
2
in still wines is done easily with a
Carbodoseur
, giving quite accurate results if the measurement is performed in appropriate conditions, in particular at low temperature (sample below 10°C). Some more sophisticated devices enable to obtain fine-tuned values thanks to NDIR (Non Dispersive Infra Red) technology.
This is the simplest and most appropriate method to control dissolved CO2 at the winehouse. The measure is done with a stoppered cylinder filled with the sample to analyze. Once shaked, the cylinder spills out a certain volume of the sample, proportionately with the CO2. content. This volume is reported on 1 correspondence table which gives the CO2 content as a function of the temperature of the sample. Average accuracy of 50 mg/l.
MEASURING INSTRUMENTS : PRESSURE
In bottles of sparkling and semi-sparkling wines, excess pressure due to carbon dioxide can be measured with an aphrometer (pressure gauge). Their structure may vary depending on the closure type of the bottle, but most of them include a pressure gauge (manometer), a holding system and a piercing system.

The measurement must be done in the following way: the aphrometer is placed on the bottle and the fixing bracket positioned so that the instrument is stable on the bottle and there is airtightness between the inner space of the bottle and the aphrometer body. After piercing the crown cap or the cork with the aphrometer, the bottle must be strongly shaken until pressure is stable. Then the reading is done. In the case of permanent aphrometer, the device replaces the crown cap and is placed directly on the bottle ring. It allows to control the pressure increase all along the secondary fermentation.

The measurement must be done on bottles whose temperature has been stable for at least 24 hours. If the measurement temperature is different from 20°C, a correction must be applied, multiplying the measured pressure by the appropriate coefficient.

The aphrometer can also be used on bottles filled with still wines and closed with a cork, in order to check bottling quality. It is available for this use under a simple structure, without any holding system, and with a vacuum/pressure gauge. Bottles with screw cap require an aphrometer with fixing bracket.

To comply with OIV norm "Overpressure measurement of sparkling wines", the aphrometers must be regularly verified (at least on an annual basis) by means of a calibration bench.