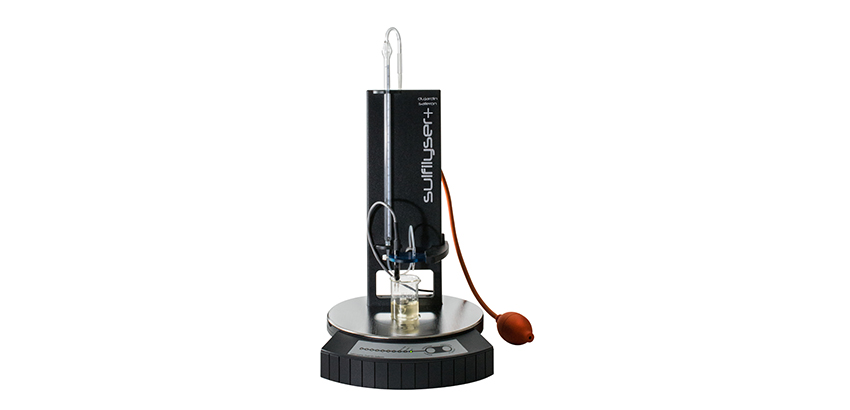 Dujardin-Salleron expands its range of analytical equipment with the Sulfilyser +

15 / 02 / 2017

This instrument, designed by the R&D division of Laboratoires Dujardin-Salleron, is now equipped with an automatic stop at the end of titration, and autonomously measures SO2 by potentiometry.

Download attached file
Dujardin-Salleron expands its range of analytical equipment with the launch of the Sulfilyser + to provide its customers more flexibility and comfort in their analysis practices, as well as a better repeatability of the assays.
This apparatus is designed to quickly and easily measure free and total SO
2
, by removing the difficult estimation of the end of titration. The Sulfilyser + is adapted to any kind of must or wine, including highly colored red wines, lees for distillation, fruit juices, alcoholic drinks and vinegars.
The user starts the opening of electrovalve to drop an oxidizing solution of iodure/iodate into the sample. With a double platinum electrode, the Sulfilyser + detects the electric current as soon as this solution is in excess. The titration is then stopped automatically and notified by LED signs.
The Sulfilyser + has many advantages, including: a linear guidance of the support of the probe, a magnetic stirrer, an auto-zeroing 10 ml burette (graduated 1/20), a flow by electrovalve and a removable stainless steel tray to make the cleaning easier.
R&D activity, composed of industrial designers and electronic engineers allows us to develop devices that meet the users'needs. Their work is structured around several development lines: Ergonomics and design, the accuracy of analysis and measurements performed, the ease of set up and use, the fast implementation and the automatization of analytical procedures, the reduction of maintenance needs. Mixing these criteria with quality materials and local manufacturing gives rise to a range of lasting quality instruments at the users' service.