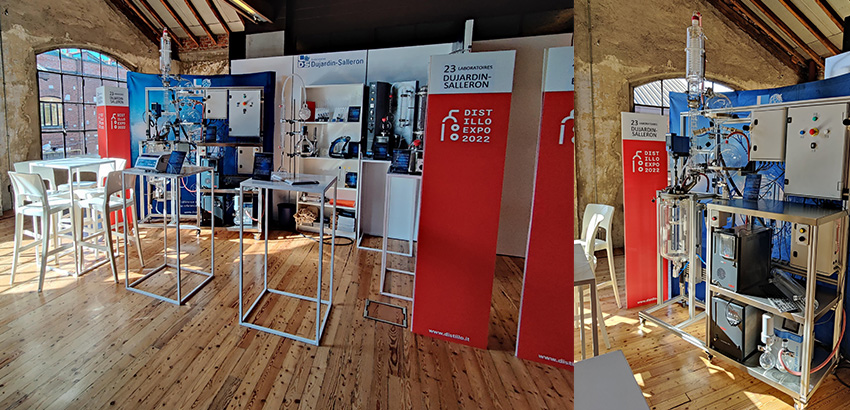 Product launch : a distillation unit signed Laboratoires Dujardin-Salleron

02 / 06 / 2022

LDS is here to support our clients with all their automated distillation unit projects, combining a wide array of skills and expertise including : - the design office (design, development and methods), - manufacture (mechanics, glass, piping), - automatic systems (IT, electrical, management software, commands). By standardising these aspects, we can put a tool for creating unprecedented new products within reach of distilleries large and small.
The distillation unit has been specifically designed to control pressure and allow low-temperature distillation using vacuum technology.
By reducing the pressure, the boiling points of each component within the liquid can be brought down to temperatures which will not degrade certain molecules.
The system is fitted with a pipe connecting the distillate inlet to the reactor vessel, like a pot still.
Low-temperature distillation preserves heat-sensitive aromas, which would be destroyed in a traditional hot still. The computer-assisted still allows you to control each factor of the operation and automate the process.

The principle here, inspired by the perfume industry, offers exceptional results with both fruit and grain spirits. It can also be used in the production of gin, opening up a huge range of possibilities with the option to use fruits, vegetables, herbs and other aromatics which can't be used in traditional distillation, such as honeysuckle, cucumber and fig.
The software allows you to easily control the various distillation phases in real time, using the various installation functions :
- Heating temperature
- Compartmented vacuum management
- Refrigeration system power (flow, temperature)
- Stir speed in the reaction vessel

All of these parameters can be saved, allowing you to reproduce and fine-tune the process